St. John's River Water Management Districts Recreational Lands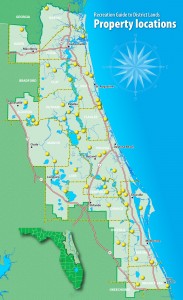 Those individuals seeking recreational opportunities near the central eastern  geographic area of Florida will find a very valuable resource available through the St. John's River website.  This water management district manages a large area of public land in protection of the St. John's River watershed and has a great deal of helpful information available on their website.
Within the associated pages and links, you will be able to locate a wealth of maps and information related to the activities offered to those seeking to experience the lands managed by this department.
Click on the graphic to follow to the recreational section of the SJR WMD website interactive map where you can select available properties of interest. ►
Maps to the properties can be obtained from the links available on the St John's Water Management District website or can be easily selected directly from the list below.  The links we have provided are the most recent from the SJRWMD website.
SJRWMD Trail guide maps
Trail guide maps for recreational properties of the St John's WMD
Bayard Conservation Area
Black Creek Ravines Conservation Area
Buck Lake Conservation Area
Caravelle Ranch Wildlife Management Area
Clark Bay Conservation Area
Crescent Lake Conservation Area
Deep Creek North Conservation Area
Dunns Creek Conservation Area
Econlockhatchee Sandhills Conservation Area
Fort Drum Marsh Conservation Area
Gemini Springs Addition
Hal Scott Regional Preserve and Park
Heart Island Conservation Area
Julington-Durbin Preserve
Lake Apopka Restoration Area
Lake George Conservation Area
Lake Jesup Conservation Area
Lake Monroe Conservation Area
Lake Norris Conservation Area
Longleaf Flatwoods Reserve
Moccasin Island (River Lakes Conservation Area)
Moses Creek Conservation Area
Murphy Creek Conservation Area
Murphy Island at Murphy Creek Conservation Area
Newnans Lake Conservation Area — Hatchett Creek Tract
Newnans Lake Conservation Area — North Tract
Newnans Lake Conservation Area — South Tract
Ocklawaha Prairie Restoration Area
Orange Creek Restoration Area — South Tract
Orange Creek Restoration Area — North Tract
Palm Bluff Conservation Area
Pellicer Creek Conservation Area
Ralph E. Simmons Memorial State Forest
Rice Creek Conservation Area
Stokes Landing Conservation Area
Sunnyhill Restoration Area
Thomas Creek Conservation Area
Three Forks Conservation Area
Special guides for recreation land
Blue Cypress Conservation Area Paddling Guide
Interpretive information
Map
Emeralda Marsh Conservation Area Interpretive Drive
Interpretive information
Map
Lake George Conservation Area Self-Guided Auto Drive
Interpretive information
Map
Lochloosa Wildlife Conservation Area Self-Guided Auto Drive
Interpretive information
Map
Twelve Mile Swamp Conservation Area Interpretive Trail
Interpretive information
Map