National Wildlife Refuge Properties In Florida
The National Wildlife Refuge System, managed by the U.S. Fish and Wildlife Service, is one of the nation's most significant resources of public lands and waters set aside to conserve America's fish, wildlife and plants. Since President Theodore Roosevelt designated Florida's Pelican Island as the first wildlife refuge in 1903, the system has grown to more than 150 million acres consisting of 555 national wildlife refuges and 38 wetland management districts.
The National Wildlife Refuge System protects the heritage of a wild and natural America that is vital to future generations. The mission of the Refuge System is to manage a national network of lands and waters for the conservation, management, and where appropriate, restoration of fish, wildlife and plant resources and their habitat.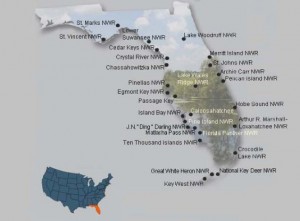 Many of these important conservancy areas are located within the state of Florida and will be the focus of these associated pages. These areas provide a multitude of opportunities to experience the wild and natural areas of the state in relatively undisturbed environments.
Click on the graphic to access the Florida section of the US Fish and Wildlife website for refuges in order to identify recreational opportunities which do not currently have a dedicated page on this website.
Following the map provided links or selecting from the list below, you will be able to obtain more information on the following National Wildlife Refuge destinations in Florida.